We want your vehicle loan and we'll prove it!
Did you finance elsewhere? Refinance your vehicle loan at FE Credit Union and receive these great benefits: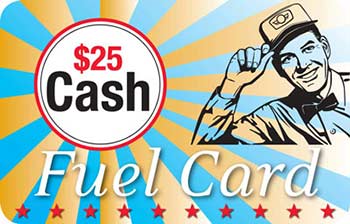 NO TEASER TERM
Honest upfront and affordable terms, we won't shorten our terms to 24 or 36 months to receive a best rate. FE Family Credit Union keeps your payments affordable as our best rates are offered everyday.
FREE $25 GAS CARD
Fill up your tank on us. If your vehicle is currently financed at another institution we'll give you a $25.00 gas card when you refinance with FE Credit Union. This offer is valid for loans over $10,000 with a minimum repayment term of 24 months. Loans currently financed with FEFCU are not eligible for this offer.
NO HIDDEN FEES
There are no hidden fees; you will never pay an application fee, annual fee or prepayment penalty!
NO TEASER RATE
Direct deposit not required to obtain our best rate - thus, no rate reduction clauses, just honest up front rates!